Kanji for SUZUKI BANDIT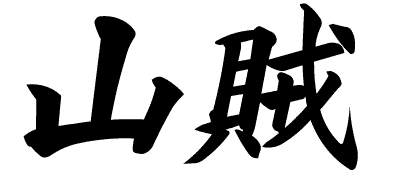 San-Zoku -Bandit
I've got an e-mail about this Kanji characters from Chris, Seattle, U.S.A. I translated the word "Bandit" into "San-Zoku" in Japanese, but he wonders why the character of a mountain appears. Yes, San-Zoku means a "mountain robber" in Japanese. First character "San" is the same as "Yama-Ha". In the same way, the word "pirate -a sea robber" should be translated "Kai-Zoku".First character "Kai" means a Sea.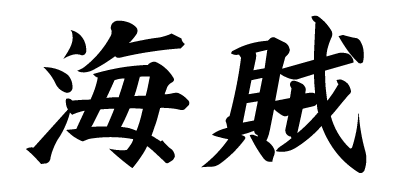 Kai-Zoku -Pirate
I don't have enough skill of English to feel the nuance of the difference between Bandit and Robber, but when you want to make some cool kanji sticker for your SUZUKI BANDIT, I recommend to use the second kanji character "Zoku" only.
Chris teaches me
Bandit:: Outlaw, Gangster: Tough guys like cowboys Mafia who answer to no one, and do not answer to authority. They make their own law. ( John Wayne, Clint Eastwood, Ronin, Yakuza)

Robber:: Someone who forcefully takes another person's property and possessions.
That is, my dictionary tells me the meaning of the word "Bandit" is "San-Zoku" in Japanese, but it is wrong. "Zoku" is the best kanji for "Bandit".
Pic from Chris
Here is a sample pic from Chris. I feel it's so cool even if I am Japanese. The character "Zoku" is smart for us.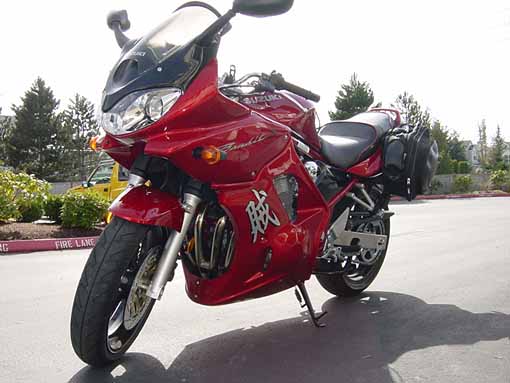 How cool it is! Thanks for your permission to upload this pic, Chris.
See how he made this decals from Here.